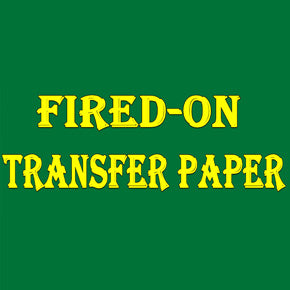 Fired-On Decal Paper - Pack of 10 Sheets
Save

0

%
Save %
Original price
$29.99
-
Original price
$29.99
Use Fired-On Transfer Paper to create water-slide decals of your artwork, images, or photos that get permanently kiln fired onto glazed porcelain and ceramics. All images fire to a beautiful sepia brown and can be "colorized" with china paints or overglazes. Your projects can be oven, microwave, dishwasher and food safe.

What you need:
*Access to a ANY HP or Canon Monochromatic (Black and White only) Laser Printer, Copier or Fax machine. As long as it is either an HP or Canon Laser machine and has absolutely no capability of printing in color it WILL work. This is because all Canon and HP black-only laser printers have at least 30% iron oxide in their onboard toner cartridges. Iron oxide is what makes the image work and is why the images always fire to a lovely sepia or reddish-brown. If your printer does not meet this criteria it won't work.
*Access to a kiln
*Transfers can be fired directly (no covercoat needed) to cone 06-02 depending on the surface. Direct fired transfers are food safe.
*In order fire transfers on at a low temperature (cone 018-016) , make a covercoat using any light colored china paint, flux or Clear Glaze (item CLEGLA) mixed in a 1:1 ratio with mineral or baby oil and paint over the applied and dried unfired transfer. Clear Glaze cover-coat is lead and cadmium free.
*After initial transfer firing, your images may be colorized with china paint in as many firings as desired.

Paper sold in packs of 10 (8.5" x 11") sheets. Instructions included.